Our History
How did it all start
Dirt road leading to the farm
Building the guest cabins
Water purification facility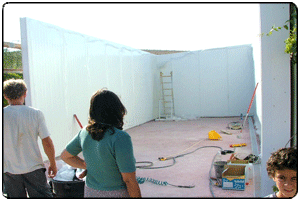 Carmey Avdat Farm began in an isolated undiscovered riverbed that had only the tire tracks of one lone car.
The establishment of Carmey Avdat farm began with the clearing of the dirt road leading to the farm by the Keren Kayemet (Jewish National Fund) and the installation of the first water pipeline.
The aerial photograph shows the ancient terraces that line the entire length of the riverbed – evidence of the ancient farm that existed here that gave us the incentive to choose this place to build our farm.
When we purchased a dilapidated caravan from an abandoned immigrant housing site we felt as if we had received our dream house. We lit the first Hanukah candle in the caravan together with close friends in 1998. The caravan had no doors or windows and only plastic protected us from the intense cold of the Negev Highlands.
We planted the vineyard of wine grapes during the summer of 1999. The small wadi soon became dotted with ugly sleeves of white plastic to protect the young vines, and we removed them as soon as possible. Friends were ready to help – perhaps with the hope that they would receive a steady supply of wine in the future!
The first snow fell on the farm in the winter of 1999. Elderly residents of the area said that they had never seen such snow here before, and neither had we. The farm took on a mystical appearance that is difficult to describe and which we long to see again.
The construction of the guest cabins was an important milestone from the financial aspect as well as the ideological aspect of opening the farm to guests and visitors.
The metal shop is Eyal's playground and adventure land and is also used to manufacture tools that are needed on the farm.
The water purification facility for grey water is an important ecological project that was accomplished with the help of the Desert Research Institute of Ben Gurion university and the water commission. All the gray water from the farm is piped to the facility, biologically purified, and recycled for irrigation.
The establishment of the winery in 2005 closed an important circle for us. We are now able to perform the entire process of producing our wines from beginning to end - as both growers and winemakers.